Ambrogio Twenty ZR!
21 Jun

Posted By
0 Comment(s)
666 View(s)
Ambrogio
This is a different breed of robot mower, one that doesn't require a perimeter wire like all the other models we have reviewed. It's called the Ambrogio Twenty ZR and it makes its own way as a fully autonomous mowing solution for lawns up to 1000m², replacing the perimeter wire with radar and a great deal of AI. It's been put to test on some of the studio's lawns to see just how effective and intelligent this wire-free solution is?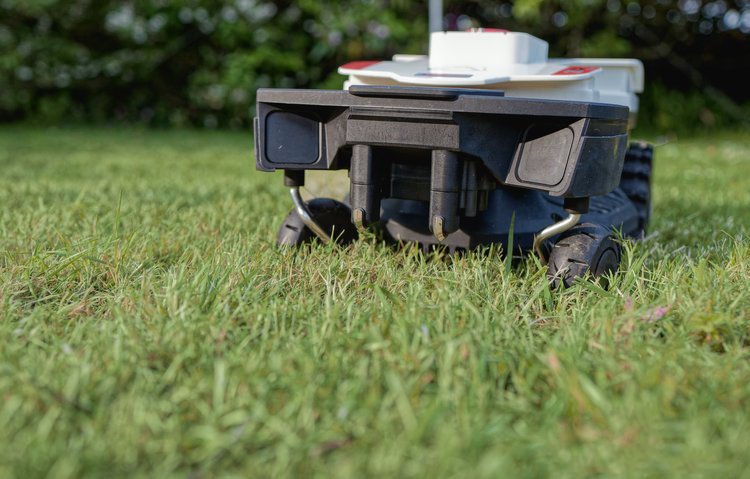 Design
We've noticed that a recent trend on the robotic scene is to relinquish the rounded form, and instead embrace a more boxy outline, as apparent with the compact (L 296 x W 453 xH 220mm) Ambrogio Twenty ZR. This robot mower features a very rational aesthetic in terms of control placement, an even 7.5kg weight distribution, handy handle rails along the top sides for easy transportation between zones, and the lower third features plastic pieces that act as combs for grass to assist in evenness of cut. It has clearly been moulded to live and work outdoors, designed for tougher terrains and larger gardens (rated to mow up to 1000m² lawns). It's equipped with chunky grip rubber rear tyres to conquer slopes recommended up to 35%, 2 front pivoting wheels to accompany the rear drive wheels, independent front wheel suspension tilting system and solid plastic casing which has some flex. We've also been impressed with how well the mower has kept its clean appearance, with the black sides not becoming scratched up by our boundary granite walls so far. The white top gets all manner of colours on it from rubbing against flower petals, but this cleans easily.
Flipping the mower over reveals a 4 point solid stainless steel (18cm diameter) blade and that pleases us as it won't rust. It is height adjustable between 25-70mm via the use of an included tool which is done by quarter turning a lug that allows the blade mechanism to be unlocked and moved up and down. A ruler is printed onto the height adjustment tool which indicates the adjustment you are making and it's a fairly easy process.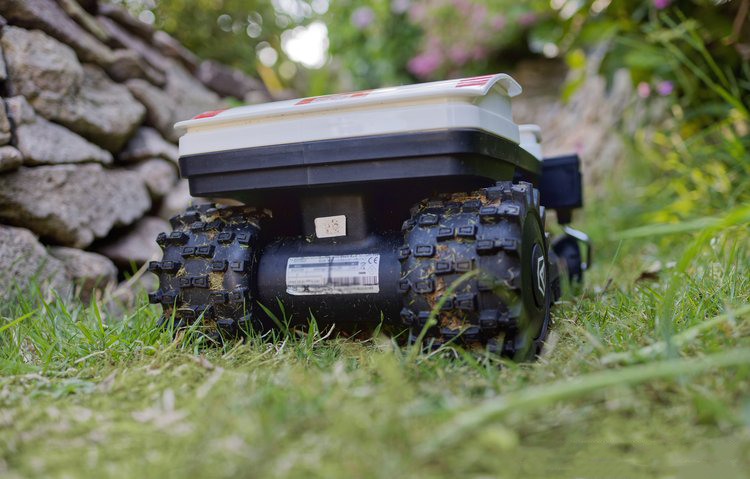 App + Onboard Controls
The Ambrogio Twenty ZR boasts a comprehensive app that is available for both iOS and Android devices. Serving as the primary control interface for the mower, it offers a convenient way to operate and manage its functions. Onboard controls are also available for quick access to essential features, ensuring you have control even without your smartphone nearby. The large red stop button, in particular, has proven its worth by saving at least one badminton guide wire from being entangled.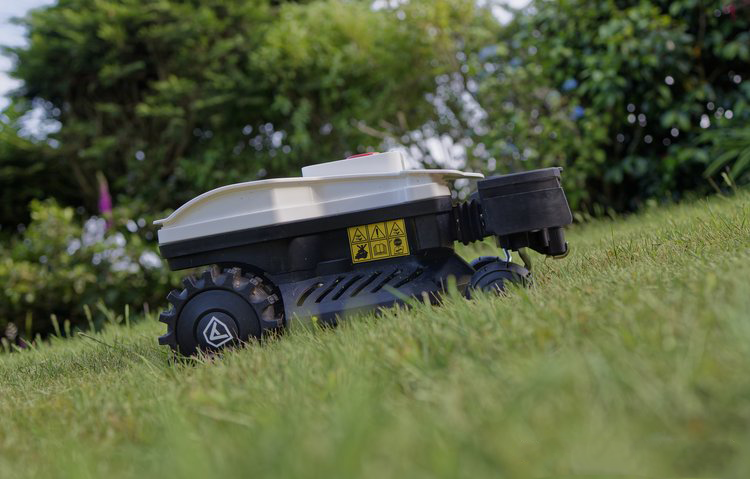 Trust is paramount when considering a robotic lawnmower like the Ambrogio Twenty ZR, and after thorough evaluation, this has become a trustworthy wire-free autonomous mower companion. It offers an efficient and effortless cutting performance in all suitable areas where it has been tested up to 1000m². The Ambrogio Twenty ZR showcases its ability to effortlessly navigate and mow different lawns without the need for extensive setup. It handles challenging terrains with exceptional ease, demonstrating its reliability and competence. There is no doubt that it is a top contender in the competitive robotic lawnmower market.